SD-WAN provides a stress-free way to utilize multiple Internet providers to build a more robust Internet connection that is ideal for supporting today's VoIP and Cloud applications.
How SD-WAN Works:
SD-WAN solutions vary among vendors in both the features available and the methodology used. Some build the functionality into edge devices, some are exclusively cloud based and some use a combination of both. Each approach has advantages and it's important to understand their relative strengths when choosing a vendor to work with. All SD-WAN solutions use a dynamic configuration approach, so they can adapt to changing conditions to optimize connections and traffic. In comparison, traditional firewalls and routers use a static configuration so cannot match the performance of SD-WAN. Some SD-WAN solutions encapsulate your traffic within tunnels. The connection occurs from an on-premise appliance, running across one or more ISP paths, to a second device which can be at a second site or in the cloud. These tunnels efficiently and reliably move your traffic to and from the internet and your sites, while providing you end-to-end visibility and control of each circuit with security like MPLS and costs of commodity internet.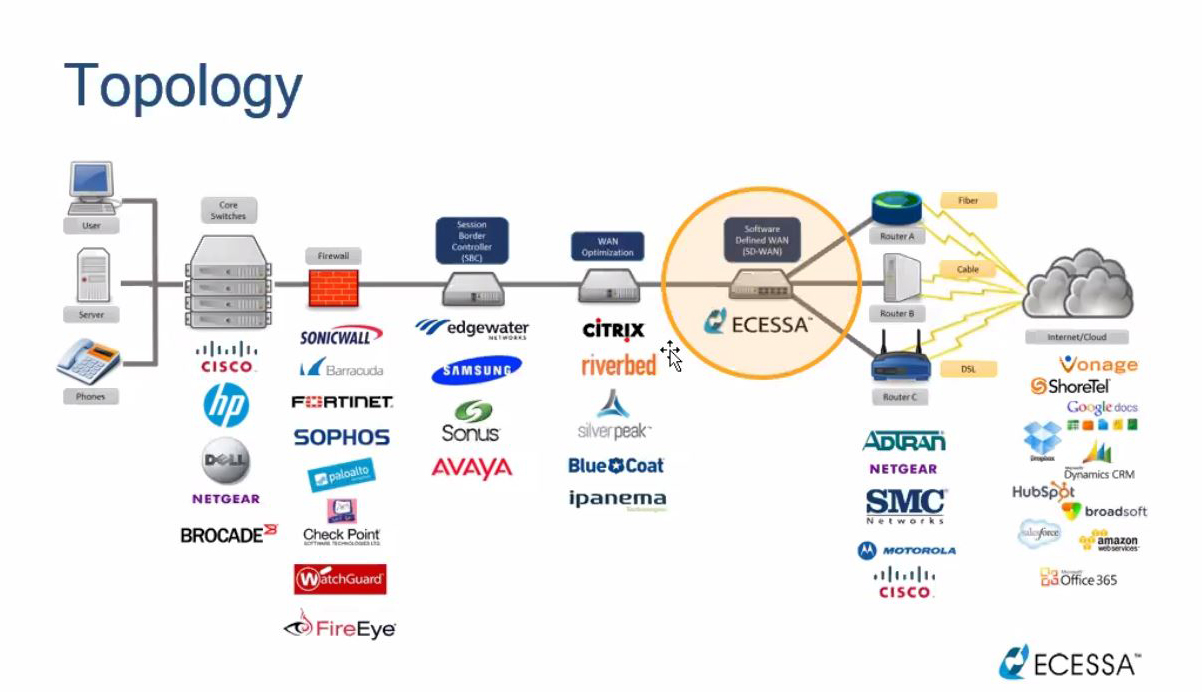 How the Ecessa Edge Appliance fits into the Network.
Constant monitoring measures circuit performance in both directions, evaluating traffic flows from your applications, and adapts to changing conditions in real time based on algorithms and quality thresholds.
Intelligent Load-Balancing

and redundancy across multiple connections from different providers.

Allows Multiple Low Cost circuits

to behave like a high performance circuit.

Adds QoS capability

to commodity Internet.

Moves VoIP calls between circuits

without dropping calls.
What You Get with SD-WAN
High Quality and VoIP – VoIP calls stay connected even when circuits fail or experience packet loss, latency, jitter, or congestion.
Enables VoIP and other Cloud applications over low-cost connections – Experience high quality that is typically associated with more traditional private-line technologies.
Eliminates slow performance and outages with continuous monitoring of ISP circuits and uses that information to automatically direct traffic to its best connection.
Protection – Prevents businesses from harmful outages and poor application performance.
Secure and Encrypted data links between data center and remote sites.
You Need SD-WAN if you Have:
Coax, DSL, Fixed Wireless (commodity Internet)

Hosted VoIP

Secure Links between Sites

Virtual Desktop

Key applications hosted in the Cloud

Single Internet link today

Primary/Backup architecture (no load-balancing or QoS)

Compliancy requirements for 2+ connections

Experienced a recent Internet outage or degradation that impacted business applications

You Need SD-WAN if you Have:
7 Questions to Ask
Do you have mission-critical applications in the Cloud?  – 

If not, do you plan on migrating them to the Cloud in the next 12 to 24 months?

Do you use VoIP? –  If so, are you using a Hosted PBX or SIP trunks? Are these services provisioned "over the top" of public Internet connections?

Do you need secure data links between sites or Want to avoid Expensive MPLS?

Have intermittent performance issues, such as latency, jitter, or packet loss, on your ISP connection negatively affected your business?

Do you have any compliance requirements to have limited Internet downtime?

How are you currently addressing an Internet circuit failure in your Business Continuity plan?

Do you need a simple way to use multiple providers during outages or service degradations?